Art Week - Post 2 - Kirkland Museum new building, Denver, Colorado
Vance Kirkland's art has a goregous new home in Denver.
Kirkland was a painter who lived and worked in Denver for most of his life and career (roughly 1930 until his death in 1981).
Kirkland Museum opened in Denver in 2003. It incorporated Kirkland's original studio building with additional gallery space. It was an amazing, but small, museum with many wonderful pieces.
The museum was closed for nearly two years and reopened recently in their new home, a new building at 13th and Bannock St. in Denver. This move included moving the old studio building to the new location.
What will you see if you visit?
Kirkland was a modernist. If you think that modern art is challenging, his work has a universal appeal that often makes an impression beyond the normal core audience for modern art. This appeal comes from 3 places:
His late-period dot paintings are large and spectacular. They have visual force.
Kirkland's career spanned many decades and styles of painting. Though all of those styles are modern, there is a variety to his work and a visible evolution that attracts casual visitors. Kirkland did not stop evolving, challenging himself, or creating new things. Late into his life he was experimenting and breaking new ground. This life-long quest and variety are visible everywhere you look in the museum.
Even though it is modern, it is still landscape painting. From early, more traditional landscapes, to later surreal, fantastic, and other-worldly pictures, the art remains rooted in landscape. This is true even when there is no 'land' in it. Some late work can be considered pure abstraction, though he gave them names suggestive of science fact and fiction: Explosions of Energy Near Mars 10 Million Years B.C. Or Five Red-Orange Suns in Space.
The studio building that was moved contains Kirkland's unique 'over the table suspension' rig that he used to paint. It allowed him to lie down and work suspended above the painting for long periods of time. This piece of the museum collection is something that people often comment on.
I've been a member of the museum for more than 10 years and I am really happy about the move to the new location and facility. And I am also happy the museum is open again.
It is remarkable art, and now it has a remarkable building to live in. The new building has room to allow a visitor to view larger canvases from a greater distance than was possible in the old, smaller building.
If you are put off by modern art, and my points above don't convince you, there is a lot more to the Kirkland. Kirkland Museum has 3 major collections:
Paintings by Vance Kirkland
Colorado Art
Mid-Century Modern Design
The Mid-Century Design collection includes some furniture and other home decor with very broad appeal. A sofa that looks like lips? Yep. Lamps shaped like pharmeceutical capsules? You know it.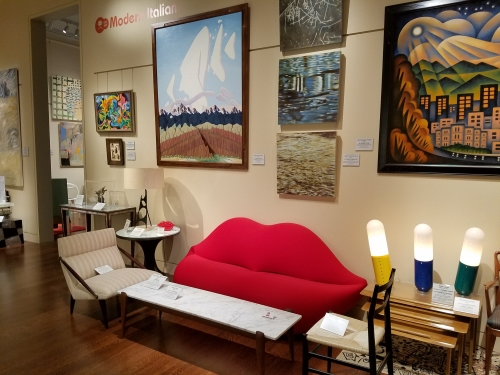 They also have a TV that looks like a space helmet and a 'marshmallow sofa'.
The Kirkland used to be small and a little out of the way in Denver, and with the move they've changed all that.
It demands a visit if you're local or visiting Denver for some other reason. It's central location makes it easy to get to. It's also easy to combine with a visit to the Denver Art Museum or the Clyfford Still Museum, both less than a block away.
Seeing these three buildings and their housed collections are worth a visit to town, all on their own.
Leadership Angle: Kirkland didn't stop pushing himself to do new things and didn't rest on his laurels, even late in his life. Also, he chose Denver as his base of operations. He could have chosen a more cosmopolitan location - New York, Paris, San Francisco - as an artist might today. He was drawn to the city and to the landscapes of Colorado and chose to make this his home for more than 50 years.